A storied franchise. Unrivaled success. Glorious achievements few teams have ever even approached.
We may be just one week into this season, but the Seattle Seahawks look ready to make a run for another banner. One that would cement the team's legacy as the greatest franchise of all time.
That's right, the Seahawks' are once again hunting for that most precious trophy in all of sports:
The DVOA Championship.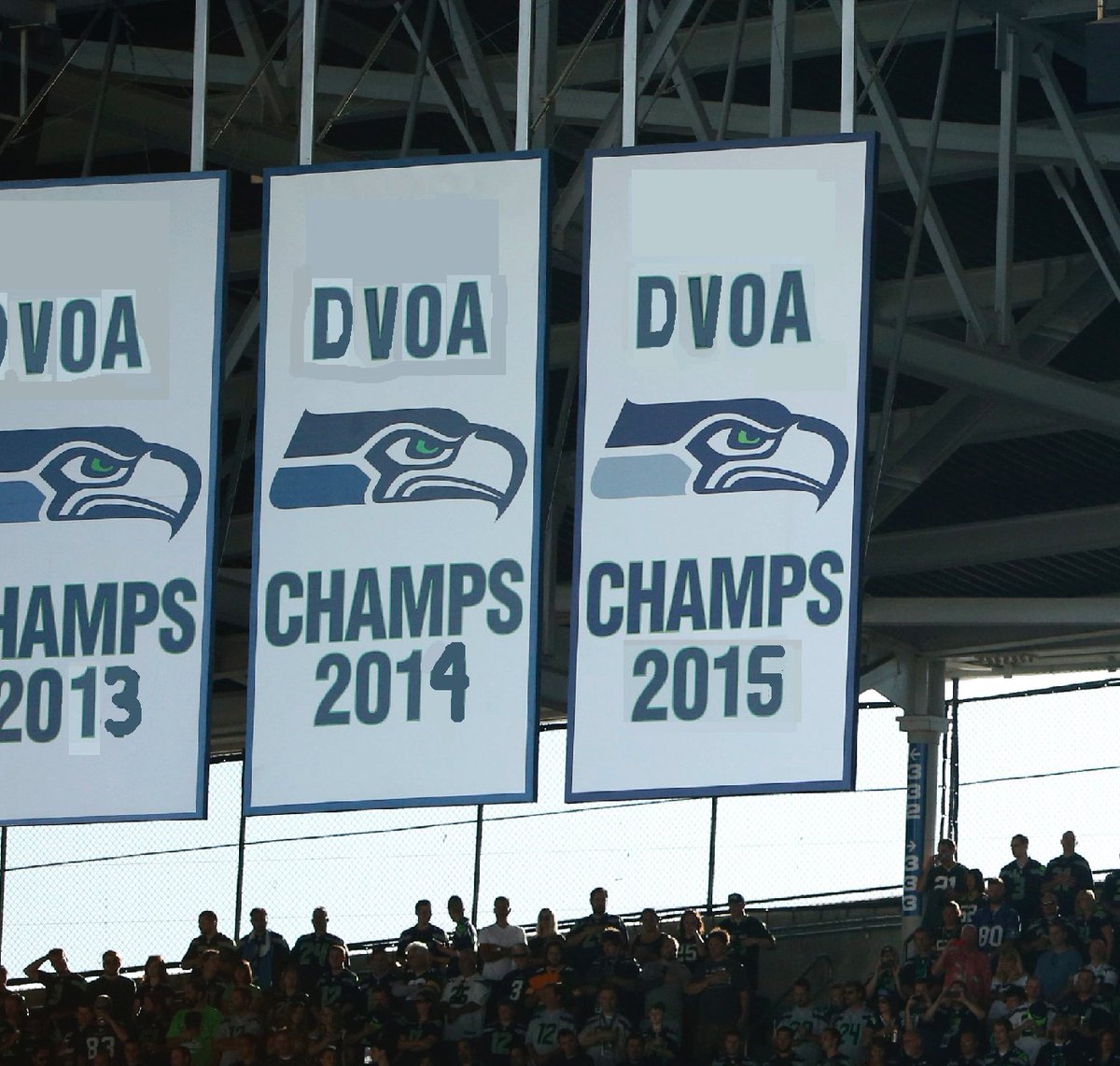 Over the last 25 years — about as far back as anyone can go while still remaining relevant to football as we see it today — no team has won as many as four DVOA titles, aside from the Seahawks. They now have a chance to distance themselves from the field even further, as 2020 kicks off Seattle's #QuestForFive.
Their first run of DVOA titles came on the backs of legends like Richard Sherman, and Super Bowl MVP Malcolm Smith. The legacy of these two players will forever be entwined with navy and action green, as nothing they have done — or will do — since separating from Seattle will compare.
Now we look to a new crop of starters to lead this team to the promised land, a group that hopes to make a name for themselves as legendary Seahawks just like Sherman and Smith. An elite defense led by Bobby Wagner, who knows what it takes to win the highest honor in the game, is now joined by longtime (sort of) Seahawk Damontre Moore, who has a shot to join Wagner, and Sherman, and Smith as an all-time great by winning that coveted DVOA title.
And on offense, an elite playmaker has arrived, whose name will soon be synonymous with Seattle: Carlos Hyde.
Hyde hasn't made much noise in his career yet, but he's currently leading one of the most potent rushing attacks in the NFC West (by EPA/play). With his performance last weekend, he's on pace to notch 16 total touchdowns this season, the most since Shaun Alexander's 27 in 2005.
Look at Hyde's burst as he careens through the line, across the plane, and into the endzone of our hearts and souls. That's how you win a DVOA championship. With his help, the Quest for Five is sure to be successful, and from that point forward when you think of Carlos Hyde, you'll think of the Seahawks and only the Seahawks. He was made for Seattle.
Right now the Seahawks are far and away the best team in the NFC West by total DVOA at 37.0%, with the clear runner up Arizona Cardinals sitting in second in the division at -5.2%. Sure, technically the NFL standings show Arizona as the top team in the West right now, but when you take into account the quality of your opponent like DVOA does, it's clear that the Seahawks are the real team to beat.
Moving forward, Seattle will have to chase down Baltimore in order to complete the Quest. The Ravens are the reigning DVOA champions and look to become the first franchise to repeat since the Seahawks of 2014-2015. It's a tough task to accomplish, and with just a touch of regression on offense plus the loss of Ravens legend Earl Thomas, it seems feasible that they fall off later in the season.
While you may not be able to attend live NFL games at CenturyLink Field during this awkward season of ours, you can still join in the #QuestForFive by using our signature hashtag every Sunday and cheering on your Seahawks as they make a run at history.
Get ready Seattle. This year, we're doing it for the DVOA.